2017 Infiniti Q60
Last Updated: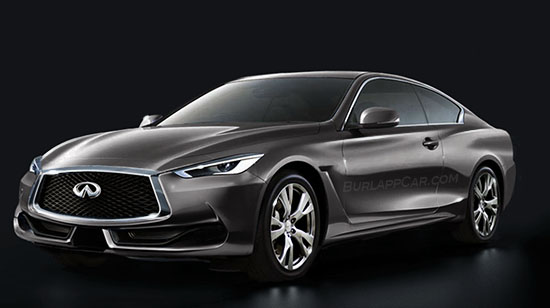 The coupe version of the Q50 sedan will be, of course, the Q60. (Illustration above)
(The current Q60 is just the old G37 )
The big news is that it will use Mercedes engines.
At least the 2.0 Liter and the 3.0 Liter Turbo are boing test (By Mercedes) right now.
I wonder if that means goodbye to the old "thirsty but smooth" 3.5 Liter.
(Which is now being used in pretty much every single Infiniti model in the US.)
I am a big fan of the 3.5 Liter. But it IS thirsty.
I also didn't know the partership between Nissan and Mercedes included more than the 2.0 Liter engine and the A/B/CLA/GLA platform…
I guess this will make the Q60 a more direct competitor to the new Mercedes C Class coupe.
But why? Unless it is much cheaper?