2017 Mazda CX-5
Last Updated: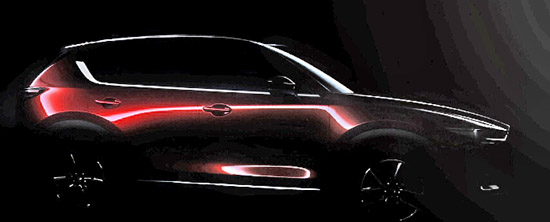 This is the first official photo of the all new redesigned 2017 Mazda CX-5.
And it already looks like another very nice design from Mazda.
These guys can't seem to come up with an ugly car these days…
The CX-5 has been a hit for Mazda. Selling over 111 000 units last year alone.
This will face formidable competition from the equally all new Honda CR-V.
And the all new Chevrolet Equinox as well.
(And you know there must be an all new RAV-4 around the corner.)
I will see it in person at the Los Angeles auto show in a couple of weeks.
Keep checking the site for many pore picture…