2018 Volvo S90 sedan.
Last Updated: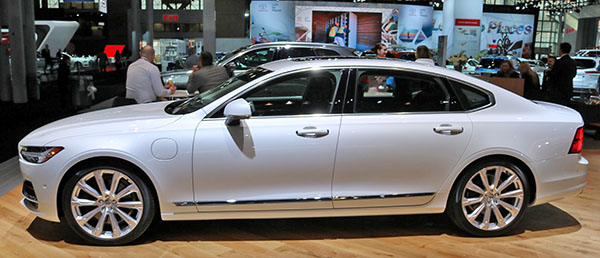 What is this? Already?
The all new 2017 S90 is barely here, and here comes the "longer" 2018?
Yes.
Because now, the US will be getting all their S90 models from the Chinese factory. Not from Sweden anymore.
The one made in China is the longer wheelbase version.
And it will be the only one available here in the US for the 2018 model year.
It adds almost 5 inches to its wheelbase. And about the same increase to rear legroom.
It will cost about $1100 more than the 2017 model, but will come with a Panoramic Sunroof standard.
(Which is great)
So it's basically not really more expensive.
The car will now start at $49 000. (including that panoramic sunroof)
While the T8 Plug-in Hybrid will start at $64 600.
Since you can gat (in California) $10 000 off the Plug-in version, it comes down to about the same price as the lower $55 000 mid level T6 model.
And about $5000 more than the base one. But it includes a lot more stuff on top of the Plug-in technology.
The S60 has already been available in a longer wheelbase version, also built in China.
Other models are still being built in Sweden. For now….