Nissan Pathfinder test drive
Last Updated: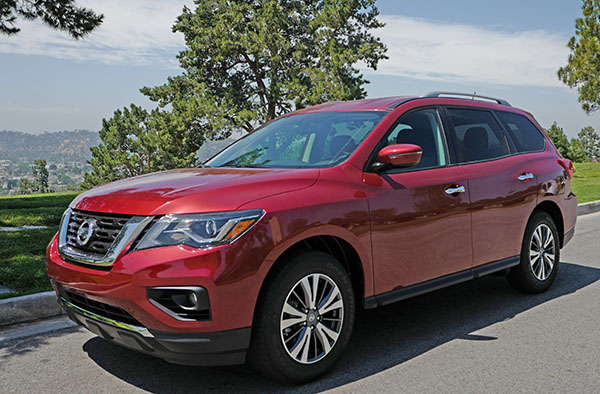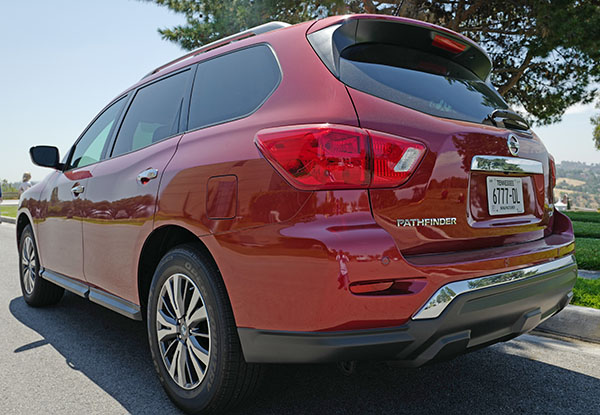 The current Pathfinder came out in 2012. So it's nothing "all new".
It got a few revisions ( new grille etc) for the current 2017 model year.
The 5 year old design holds up pretty well.
It was never a stand out. And by now, it is pretty much invisible everywhere it goes.
Which is not necessary a bad thing. Especially in the family SUV market.
Where these are very close to being minivans.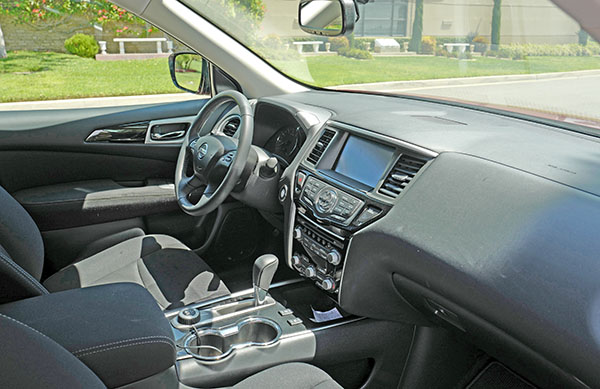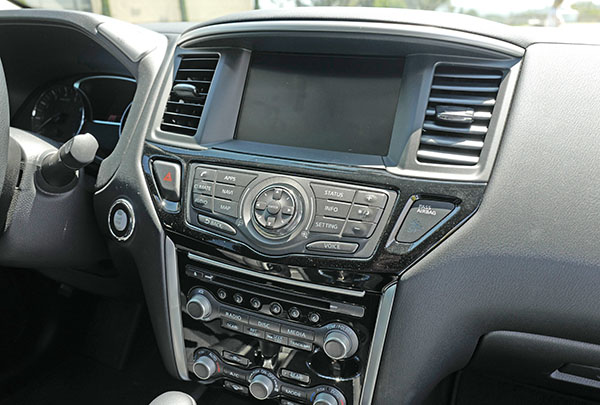 Same thing inside. Things are between just OK and fine. Nothing original but nothing bad.
Everything feels pretty solid and well made.
The infotainment graphics are much improved from a few years ago.
And the standard stereo sounds fine.
The one I had for a week was a pretty basic SV model. So it had cloth seats.
Which I like a lot. I do wish less cars came with leather. As I still think cloth is more comfortable.
The seats on the Pathfinder are really nice and comfortable. And they have none of that horrible lower bump found on the Sentra seats.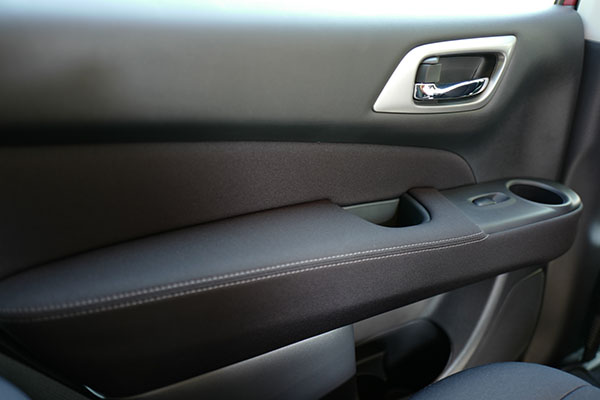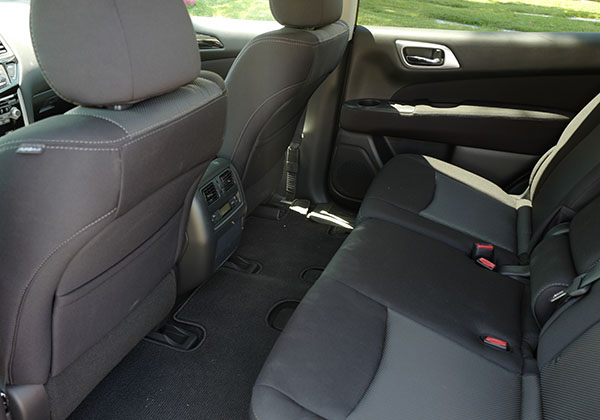 The second row can be pushed back. Revealing a huge amount of legroom for rear passengers.
And a completely flat floor.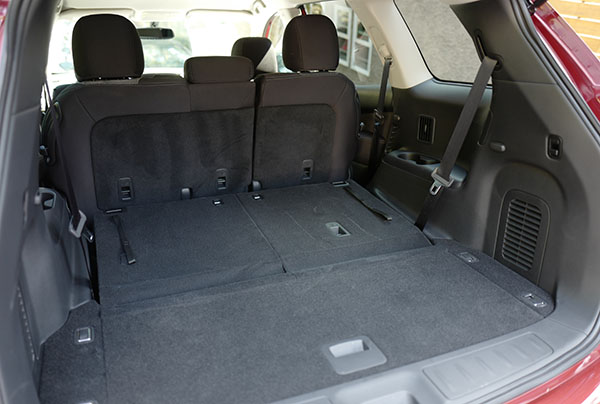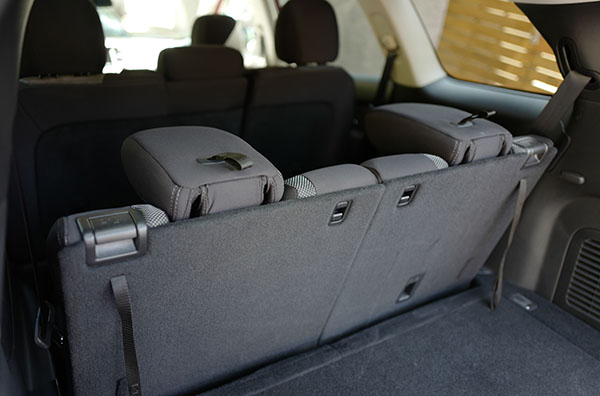 The trunk is pretty large even with the 3rd row up.
Otherwise, there is a huge cargo space for up to 5 passengers.
One of the first thing I noticed was how low the opening of the hatch was (The hatch was a manual affair in my SV model)
I am just 5.11 and was always bumping the top of my head.
That manual hatch was also very heavy to open and close
My test car being around $34 500 before options, a power gate should really be standard…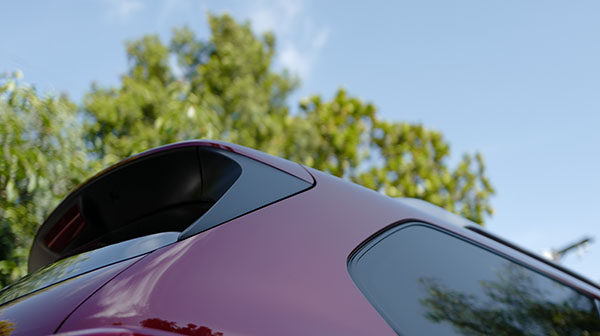 I was surprised how big the Pathfinder feels when driving.
The steering is actually pretty heavy. And the whole thing almost feels as big as a Tahoe.
It always has kind of a slow, heavy, lumpy feel to it.
It is not agile at all. Basically, this is an old fashion FWD Minivan at heart.
The SV 4WD model I had is rated at 19/26 MPG.
All I can tell you is that it is impossible to get 19MPG around town.
No matter how slow you drive.
I tried…
The best I got was 16.
But I did get 28 on the FWY.
These numbers are actually not horrible for a 284HP SUV than car carry 7 people, really.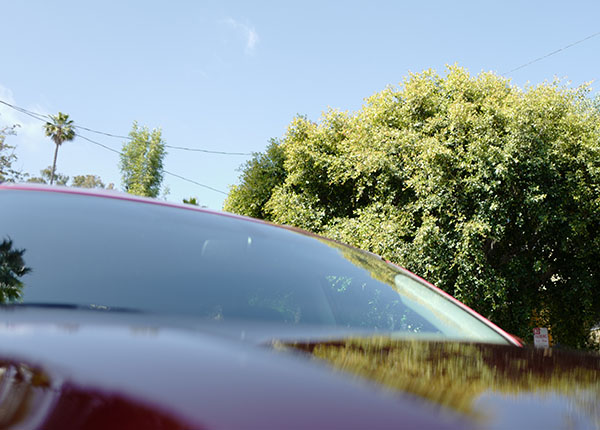 The engine itself is just fine. Although things do get a bit rough when you really push it. For some reason.
Which is weird since the big Nissan V6 is usually super smooth.
The CVT isn't as good as it is on the Maxima (Where it is just great)
It does the job, but it isn't as responsive as it is in the big sedan.
But I guess no one driving the Pathfinder will really notice…
It also behaves really badly/weird when backing up on a hill.
Like if the power was on and off, although you never let your foot off the pedal.
Not sure if that was a defect from my test car or not…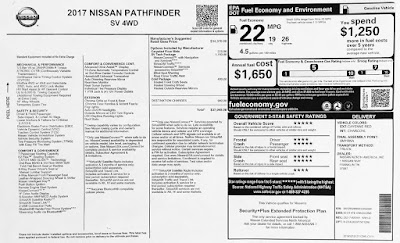 Click on the picture above to read all about my tes car. Specs, prices etc…
The Pathfinder is showing its age next to the newer competition.
After 5 years, it is expected, of course.
It drives more like a Minivan or truck than a modern unibody crossover.
(I am doing my best to get a new VW Atlas for a week. As well as the Mazda CX-9, which I hear is actually the best choice.)
As far as the Pathfinder goes, I think the particular model I had is a bit overpriced.
For $37 000, there is no sunroof or upgraded stereo.
And not even a power lift gate.
But, being an older model, there are plenty of discounts available.
You can check the Pathfinder for yourself
HERE
.
(And you really can't beat that $259 a month lease for such a large/roomy family car…)