Tesla Pick-up
Last Updated: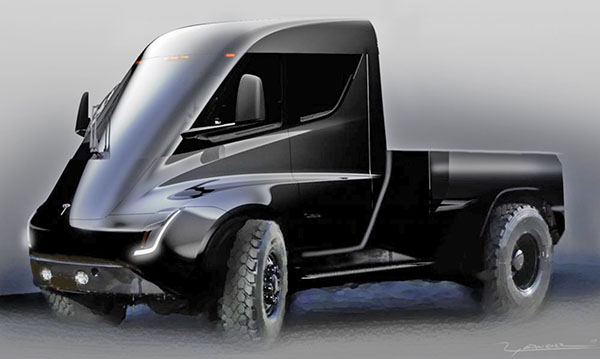 This image is shows the upcoming Tesla pick up truck.
Or does it?
Tesla is more than busy getting hundreds of thousands of Model 3 sedans produced, so this could change a lot.
I do like futuristic stuff, but this might be a bit much for truck buyers? (Although they already have a lot of orders for their semi .)
At least it will stand out from the F-150 crowd. I do applaud the EV part of it, the clean futuristic design and the lack of tacky chrome.
But isn't it what pick up truck buyers love? "Chromy and square"
There might be a market for this somewhere.
Elon Musk has also mentioned, again, that the Model Y would be next. A smaller crossover based on the Model 3. These two need to be produced pronto if the company wants to finally make money.
If you ask me, I think a small company like Tesla should concentrate on few things. The main one now is to actually produce the Model 3 in decent numbers, and with good quality.
So far it hasn't happened.
A semi, a pick up and a $200 000 sports car seem to be a waste of precious resources.