GM's all new BEV3 platform for EVs
Last Updated: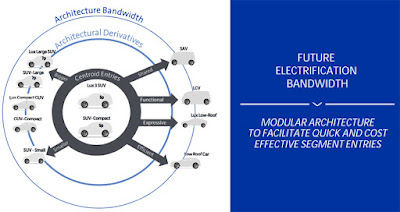 This shows what GM has planned for their all-new EV platform, called BEV3.
(click to enlarge)
It looks like a lot of SUVs. Only one model is described as "Low Roof". Which, I guess, means a sedan or a coupe.
GM is apparently already on track to offer 10 EVs in China by the end of 2020.
The new BEV platform will allow them to double that number by 2023.
The first model for the US market will be this all-new 5 seater Cadillac SUV (Probably the one labelled
"Lux Compact CUV" on the top picture)
Weird that GM just showed us a couple of pictures of the new model during the Detroit Auto Show.
But nothing else. Not even a name…
They might be a bit late to the party (Although the Volt was ahead of its time), but it looks like GM will have plenty of EVs in just a few years.
By that time, Tesla might have their "potentially super popular" Model Y out.
Which would be formidable competition to any other electric SUV out there.
But not much else new. (Except the super Expensive Roadster, and maybe the pick-up if that ever happens)
GM and VW will be pushing a lot of new electric models in all categories and price range.
And many others have similar plans.
Tesla might have a hard time to stay special and unique…
What do you think?
What would happen to Tesla once everyone is making EVs?