2021 Audi A3 sedan
Last Updated: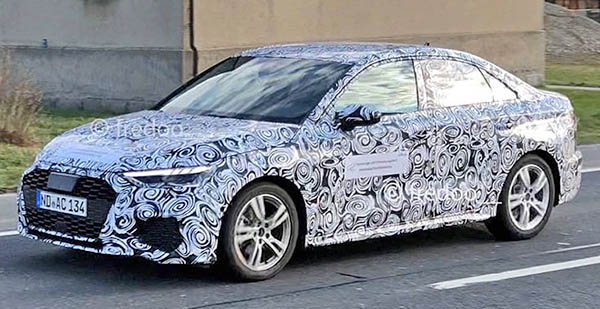 I just posted an illustration of this car a couple of days ago. (HERE)
But this is the real thing. Which is really not more exciting than the rather boring looking car in the illustration.
And that's the only one that is so far approved for the US (the hatch stays overseas)
The current A3 starts at around $33 500. That is a lot of money for a car that shares a platform with the Jetta.
Sure, the US engine for the new A3 is rumored to be the usual 2.0 Liter. This time with around 240HP.
Quite a bit for a small sedan.
But a very similar Jetta GLI, with the same engine but "only" 228HP starts at $26 000.
A totally loaded one is around $31 600 (The only option on the top model is Automatic)
And yes, I do realize the A3's interior will be more upscale (Although usually not as roomy as the Jetta's. Plus the new one is really overdone) and it will have more standard features.
But, at over $10 000 more than a loaded Jetta GLI, the A3 is a horrible deal.
Its base price is also higher than the all new Mercedes A Class.
And these are just prices for the current A3, the new one will probably cost even more.
Good luck.
UPDATE: Apparently, the hatchback WILL be coming to the US, after the sedan. As a plug-in hatchback.(E-tron)
Just like the previous version did…