Next generation Mazda CX-5 (engines)
Last Updated: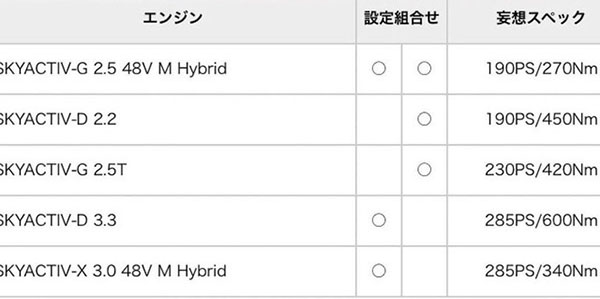 Mazda has already mentioned, a few months ago, they will have no new models for a couple of years.
So this info is probably regarding the next-generation CX-5. Also rumored to be called "CX-50" by then.
It looks like the all-new RWD Mazda 6 sedan might be the first new model to come out. Followed shortly after by the new "CX-50". Which means, they could very well be sharing platform. And that would mean a RWD CX-50…
The engine line-up above shows versions of the current base 2.5 Liter, but with a mild-hybrid system and a nice power boost to 190HP.
The 2.5 Liter Turbo looks like it could get a tiny power boost to 230HP.
There seem to be 2 diesel options, for overseas markets.
the big news is the all-new 3.0 Liter milf hybrid. Which must be the all-new inline 6 cylinder engine that has been rumored for a while (The all-new Mazda 6 will get is as well)
With 285HP, this Mazda CX-5 or CX-50 will be quite competitive.
Even against some much more expensive competition.
2 years is just a very long time in this business. And the competition is not waiting around…