2021 BMW 4 series convertible: green!
Last Updated: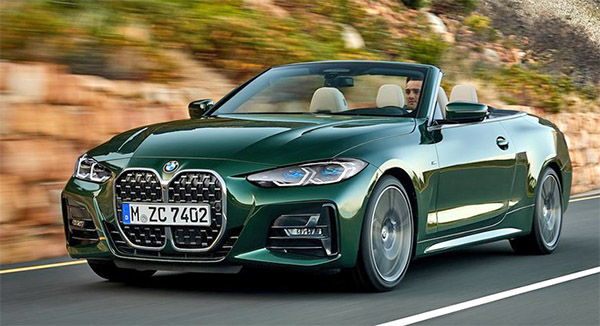 This is one good looking convertible.
I know I know. That grille…
I have to admit, I have gotten used to it. Especially the chrome one. (for some reason) And I think it might be the kind of thing that actually looks much better in real life.
The design of the new 4 series lends itself perfectly to a convertible version. This is a very clean looking car. One that will probably look great for many years to come. Like older German designs used to.
The interior looks, of course, exactly like the coupe. Which is fine.
I am not sure if Audi intends to redesign the A5 convertible in a few years or not. But Mercedes will not offer a convertible (or a coupe) version of their next C-Class sedan.
So this all-new BMW Convertible will be one of a rare breed.
The soft top looks great. With a large rear window. It is available in black or a new "silver" finish.