2021 Buick Envision: metamorphosis…
Last Updated: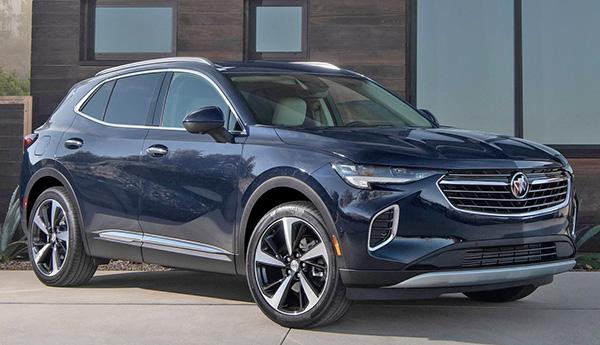 I just found out that the new generation 2021 Buick Envision is actually currently for sale. Dealers already have them.
It is really too bad Buick didn't make a bigger deal out of this. (no reviews yet?)
I test drove the "old one" a few years ago and was pretty impressed. It was a very comfortable, solid, and well-made camping companion to a wonderful road trip to Sequoia National Park. But it just looked OK…
The second-generation model looks great. Inside and out. No weird lines outside or busy weird bits inside (OK, maybe that door wood trim on the Avenir trim..)
It is now only available with the 2.0 Liter Turbo with 228HP. And a 9-speed auto. And of course, AWD is an option.
The base model starts at $33 000. It comes with cloth and leatherette (vinyl) seats, 6 speakers, 18-inch wheels, and a bunch of safety features. Basically, it seems very similar to the base Acura RDX. For about $5000 less…
The Essence model is priced at $37 000. (The blue model in the photos above)It comes with a larger 10.2 screen, 7 speaker audio with a sub, leather, heated seats, etc.. .
The new Avenir top of the line version basically comes with everything. For $41 400. Not sure if the panoramic roof is still an option.
The new Envision does look really upscale. And much more modern inside and out than the previous version. It is actually about 4 inches shorter than the Acura RDX. But I think it has what it takes to compete. For quite a around $5000 less. At $33 000 the base model seems to be a really good deal.
Even the loaded Avenir is priced right. I really hope Buick properly advertises it. It really deserves a wider audience…
the only thing missing would be some kind of electrification as an option. Really, come on GM!