2022 Mazda CX-50: new illustration…
Last Updated: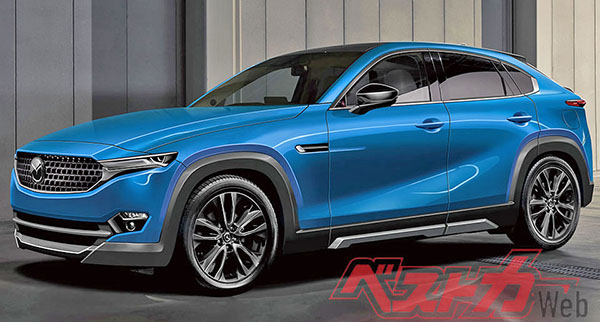 This new illustration shows a much sleeker design for the new 2022 Mazda CX-50. Which actually, kind of matches the spy shots we saw late last year.
The CX-50 will replace the current CX-5 and will introduce Mazda's new RWD platform. That same platform will be used on the next-generation Mazda 6 sedan. As well as the larger CX-9 replacement (probably called the CX-90)
While the regular 2.5 Liter might still be the base engine, a new option will be an all-new 3.0 Liter Inline 6 cylinder engine.
This is pretty much the most old fashion move by a car manufacturer in years. A new RWD platform and a new Inline 6 cylinder engine. While I admire it, I think this is a big gamble that will probably not really pay off. This is a huge investment that will be used in mostly low-volume models. Except for the CX-50. Even the CX-9 isn't selling well for Mazda. And, unfortunately, the next Mazda 6 sedan will probably be even less popular than the current generation since sedan sales are not getting better.
I don't really see this as a wise investment for a small company. They are very, very late in hybrids and EVs. But instead, choose to spend tons on a new RWD platform and a new upscale engine.
Good luck…