2022 Infiniti QX60: official pix…
Last Updated: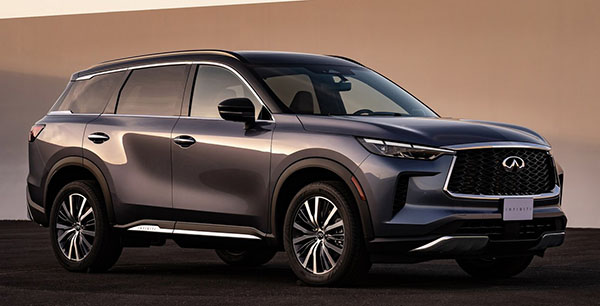 The new 2022 Infiniti QX60 is finally out. And it looks quite nice. It almost has a Range Rover feel to it somehow. Except for that huge grille. The one that looks really bad on the smaller QX50. maybe it does look better on the larger QX60…
Otherwise, this looks pretty clean and modern.
Inside, I am really getting tired of that "quilted leather" stuff everyone puts in everything these days. Once you can get that in a Sentra, any sense of luxury about it is gone.
That orangy/brownish hue also seems the same as in the Sentra. You'd think the luxury division would want to get their own interior colors.
As usual, this is the pathfinder cousin. And it uses the 3.5 Liter V6 and 9-speed auto from the new Pathfinder. So it is not breaking any grounds. Its main competition will probably be the new Acura MDX. Itself an excellent choice. Also the "still great" Buick Enclave.