2022 BMW 2 series coupe: official photos…
Last Updated: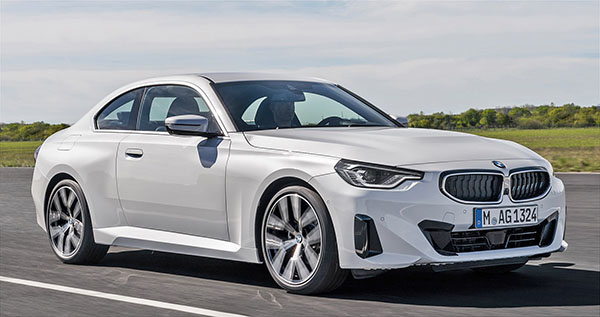 The new 2022 BMW 2 series coupe is quite a refreshing sight for a BMW. Since it's not the horror show it could have been (Considering BMW's other new designs)
Sure, it's not as clean as older BMW designs used to be. The back especially could be anything. From anyone.
But overall, this is a decent effort.
The interior is also a step up from the current generation. The door panels look really modern. And if the dashboard looks familiar, that's just because it has been lifted from the 3/4 series (bottom pic)
It is the exact same one.
Which, I guess, is fine. Using a dash from a much more expensive model isn't bad. But it also devoids the new model of its own personality.
Engines are as expected. 2.0 Liter Turbo or 3.0 Liter Turbo. Like pretty much everything BMW builds these days.
The new coupe is a little bit longer than before. And now only less than 3 inches shorter than the previous generation 4 series coupe.
Not sure if prices will go up, but right now, the 4 series coupe is about $10 000 more than the 2.
With the new 2 being almost as large as the 4 and using the same dash and engines, it could be harder to justify the extra $10 000…