2022 Mazda MX-30: DOA…
Last Updated: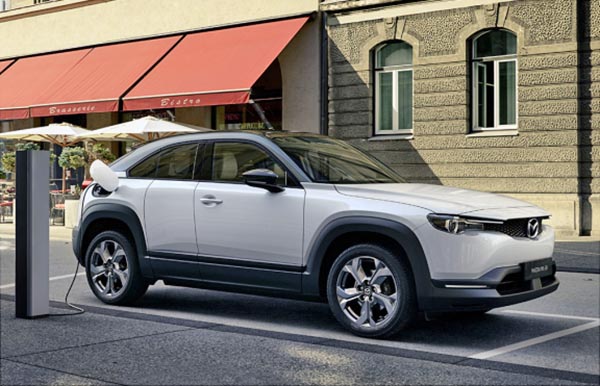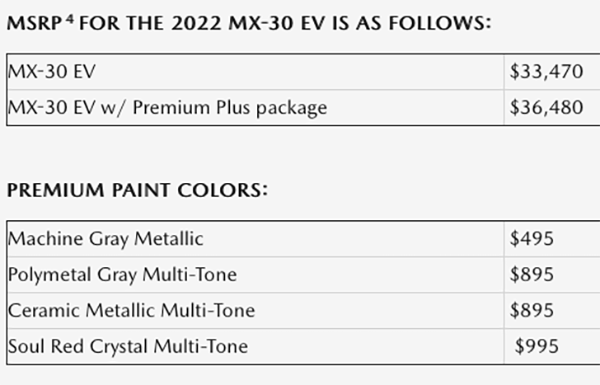 Mazda is one of these car companies that people love. Their cars are mostly great. They drive well and look good. Plus, they are a rather small company, and who doesn't want to root for an underdog?
But, they have also made stupid and very costly weird bonehead moves lately. The most recent being their "Adventure in the Diesel world". A misguided idea that probably cost them a fortune.
They are also working on a new RWD platform and inline 6 cylinder engine. While it all sounds great, they are doing this while everyone is switching to EVs and stop spending money on regular engines.
Again, these guys will be late. I'm sure the RWD platform and the new 6 cylinders will be wonderful. But for how long?
Recently, they've announced their PHEV version of the MX-30 is "postponed". (Whatever that really means)
Today, they've officially announced the only version of the MX-30 available in the US, the EV.
I posted the pricing above, and you can see it seems great. Especially after incentives. It could bring the price of this new Mazda under $23 000. That base price includes a 9-inch screen, heated seats, and even a sunroof.
BUT! The total range is only 100 miles! So, even if they claim you can charge up to 80% in 30 minutes on a fast charger, that only gives you a bit over 60 miles in 30 minutes.
A 100 miles range in 2022 is a killer. The Mini EV gets away with its 110 miles range because it is mostly a city car. But this is sold as a small SUV. One that you can never use to actually get out of town with.
I am afraid this will end up being another costly mistake for them. It makes you wonder who makes all these decisions. (And also, if they really deserve to stay independent…)
This is why I officially submit myself as possible future Mazda CEO.