2023 Mazda 6: new illustration…
Last Updated: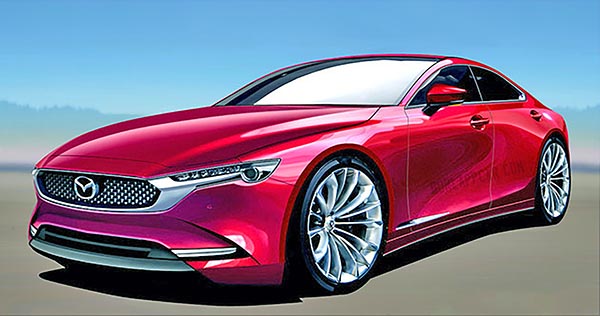 There have been rumors about an all-new generation Mazda 6 for a while now.
We know a new CX-5 replacement called CX-50 is coming out next year. Based on a new RWD platform and using an equally new inline 6 cylinder engine. The previous Mazda 6 rumors all mentioned the new sedan would be based on that same platform and using the same new 6 cylinder engine. There is also a more recent rumor about the new sedan being unveiled early next year. This means the CX-50 would be right around the corner since we will be seeing it first.
While we have seen a few spy shots of the upcoming CX-50 (HERE), there has been nothing about the new Mazda 6. Only a few illustrations. And here is another one. Basically showing a larger Mazda 3 sedan with RWD proportions and a new slimmer grille.
I'm actually not so sure there will be another Mazda 6 after all. At least in the US. The current one has been discontinued in the US, and a new one seems quite an investment for a small company like Mazda. The previous Mazda 6 sold only 18 204 units last year. (While Honda was still selling around 200 000 Accords)
Then again, we are talking about a company that wasted tons of cash on an all-new Diesel engine for the US. And is now pushing a brand new EV with a 100 miles range.
So, who knows…
(Thanks to a reader for the illustration)