Mystery SUV spotted (Burlapp exclusive!): what is it?
Last Updated: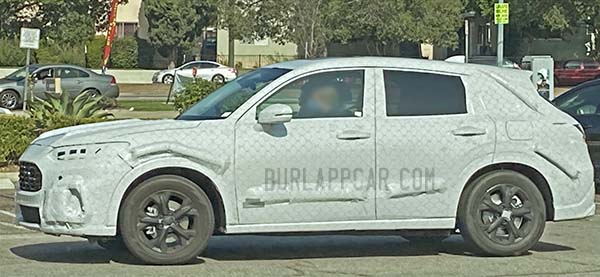 I posted these photos earlier on my Instagram and FB accounts, and so far, no one has been able to guess what it is for sure.
These were taken in Los Angeles. Which could mean it is not a Chinese model. (Although they might still be testing stuff in the US)
I tend to think it might be the US version of the upcoming Honda HR-V (bottom pic).
Honda has claimed the European model pictured above will not be the one sold in the US. And we will be getting a different design.
The pattern of the grille on the top photo seems to resemble a bit what we see in the revised 2021 Honda Ridgeline. And 2022 Passport. But the general shape of the grille looks more like a Ford.
The profile proportions do match the new Euro HR-V.
The mirrors seem the same. The hood cut is a little deeper in the HR-V.
The wheel arches are also very similar.
But I don't think Honda will eliminate the concealed rear door handles from the HR-V design.
(Are these fake rear handles?)
So what else can it be???
– One of the new upcoming Mazda SUVs?
– A new Ford product?
Ford is supposed to be getting a new EV based on VW's MEB platform. We saw some very rough-looking spy shots of it a while ago.
Or a larger replacement for the Ecosport?
– Some weird upcoming GM product?
They did announce 2 upcoming SUVs but these are all EVs. Not sure they are working on a new ICE/Hybrid small SUV…
As you can see in these pictures, 2 different models were caught. One has an obvious tailpipe.
One doesn't. Or it's concealed under the rear bumper.
The Toyota Hybrid RAV-4 pictured in the 2nd shot was part of the caravan. This usually means these new models would be competing with the Toyota.
And just lie the RAV-4, at least one model will be gas only. While the other is a Hybrid or PHEV.
I am sure some of you will have an idea of what these are. I noticed some readers were able to guess prototypes brands from the license plates. (These actually seem confusing too…)
No matter what it is, it could be a lot of different things. And that really shows the sad state of car design these days.
Manufacturers just keep thinking people just want the same thing over and over. Yet when something 100% different comes along like Tesla, they are proven wrong. Over and over. And it takes them years to recover.
It's not just a car thing. Movies and TV shows are the same.
They keep making the same stuff over and over. Copying what's made money before.
It's really kind of sad…