2024 Chevrolet Silverado EV: official photos…
Last Updated: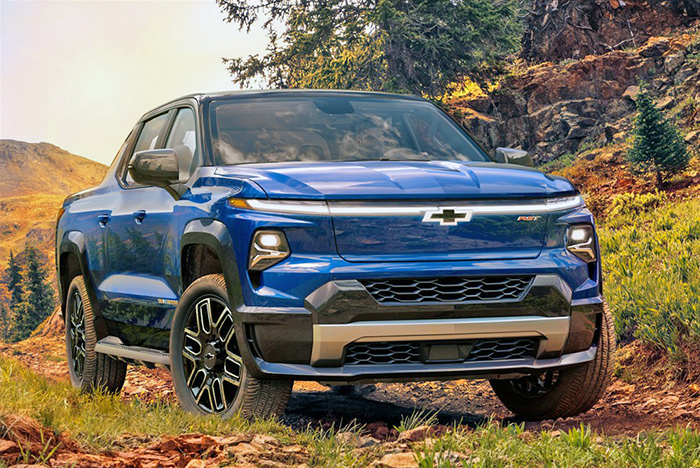 Today, we finally get to see the all-new Chevrolet Silverado EV.
Unlike the electric version of the Ford F-150, this "Silverado" doesn't share anything with the "regular" Silverado. Since it is based on the GM's new EV platform. So this is truly "all-new".
It even reminds me a bit of the old Chevrolet Avalanche.
The interior design is what you'd expect. And is quite modern. And that rear seat looks like the inside of a limousine.
It has a really cool glass roof option. And just like the F-150 EV, the front hood opens up to a very large storage area. Which is now expected on an electric pickup truck.
What is not expected, is the availability of a folding rear seat. Which is a great idea! Finally, someone is doing it!
Not only does it allow for much longer cargo, (up to 9 feet) but with the rear bed covered, you can actually now camp inside. (Something the Hyundai Santa Fe should have had)
The more basic fleet WT trim will come with 510HP. And a range of over 400 miles (Not sure if that is standard or optional. The base F-150 EV cannot be ordered with the larger battery and has a 230 miles rating. )
The fully optioned RST First Edition model comes with a dual motor and AWD with 664HP.
All for the crazy price of $105 000!!! And will be the only model available at first. In the fall of 2023. This basically means other versions are probably at least 2 years away!
The basic WT model will start at $39 900. Just like the Ford. And just like what the CyberTruck was supposed to be (Tesla no longer mentions a base price)
More versions will be available of course.
It means that no matter what, most of these will be well over $50 000. Which is pretty much in line with the regular Silverado. Since the cheapo double cab version of that already starts at over $37 000.
I think, just like the electric F-150, this Silverado EV will be a huge hit.
If you want, you can already order one HERE.