2023 Toyota Crown: official photos…
Last Updated:
21 inch whee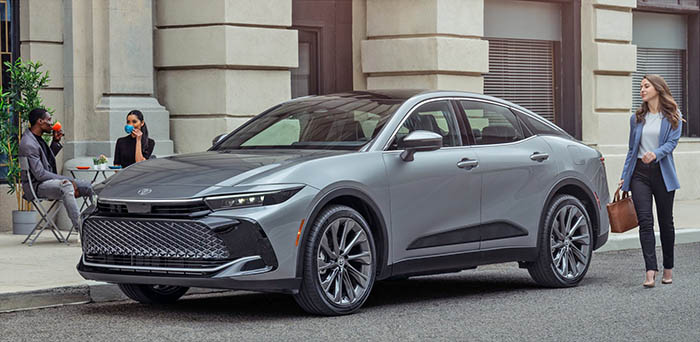 Toyota has just unveiled the US version of the all-new Toyota Crown.
Good news. And bad…
– The Crown does look quite nice. 3 versions will be available, XLE, Premium, and Platinum (with the black hood)
– Standard Hybrid with new "Hybrid Max" optional.
– Standard AWD.
– Hybrid Max (340HP) standard on Platinum.
The more powerful Hybrid Max powertrain is rated at 28MPG combined. While the "regular" hybrid on the XLE and Premium models is rated at 38MPG combined.
While the base XLE model is OK, the best deal seems to be the Premium. Which comes with a panoramic sunroof, 11 speaker JBL audio, leather, and ventilated seats front and rear.
The top-of-the-line Platinum model comes with the Hybrid Max powertrain, adaptive suspension, 21-inch wheels, and that 2-tone paint job.
The bad news? No PHEV. At least for now. And especially, no hatch! Which is a really bad mistake. If you want to attract SUV buyers into some new sedan design, you must provide the convenience of a hatch.
While the new Crown looks like a Japanese take on new European offerings like the Peugeot 406 and Citroen C5 and others, it offers none of the practicality. Just another fastback design with a small trunk opening.
Why? Why????