2024 Chevrolet Blazer EV: official photos and info…
Last Updated: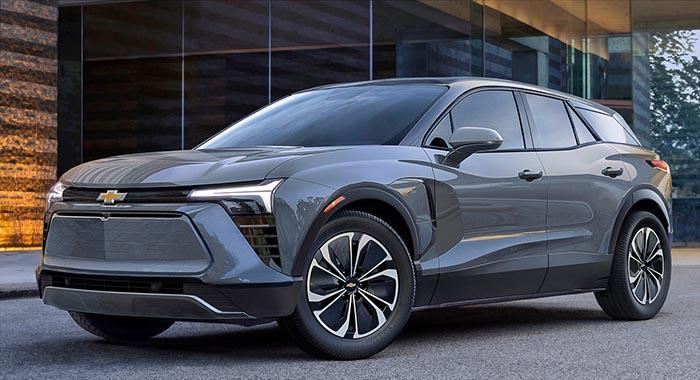 Even though it's quite busy, I think the new 2024 Chevrolet Blazer EV looks great.
Not sure why, but I can also see something retro about it. Maybe the proportions?
The whole thing looks like it has a great presence. Same thing inside. Not the simplest design, but it seems very impressive and upscale.
As usual, Chevrolet will offer too many versions IMO.
Besides the super sporty top-of-the-line SS model, you will be able to pick between 1LT, 2LT, and RS.
The top photo is the LT model. While the white is the RS and the red one is the SS.
While I like the simplicity (and lack of black trim) of the LT, it is really sad to see that the gold bow tie is still there. I mean really…
Weirdly enough, the new Blazer EV will be offered as FWD, RWD, or AWD. Not sure why they need to offer both RWD and FWD versions? It seems like a very costly way to do things.
– The Base LT1 will come with FWD and a 247 miles range.
– Base LT2 is available with AWD and a larger battery with 290 miles as options. – – – The RS model comes with either FWD, RWD, or AWD. With a maximum range of 320 miles.
– The LT1 starts at $45 000. – – 2LT starts at $47 500. – – – RS will be $52 000.
And the SS will start at $66 000
While these aren't cheap, they are mostly in line with the competition. And also need to make room for the cheaper Equinox EV that will start at around $30 000, and will probably go up to over $40 000.
So far these look great. The electric ranges available are fine. GM already mentioned that eventually, it will just be called "Blazer". Since it will just take over the ICE version sooner than later…