2024 Ford Mustang: the good pix…
Last Updated: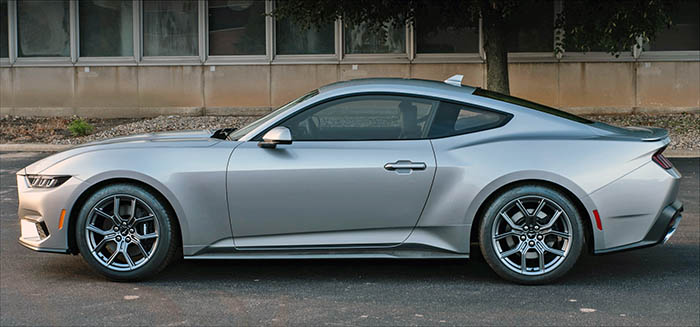 In these new photos, there is no doubt the 2024 Mustang is a good-looking car.
Although the hints of the BMW 4 series seen in the previous photos have been replaced with a taste of the current Camaro. Especially on the convertible.
Not really sure that's a good thing…
It is still pretty close to the current car. And the new interior is quite busy looking. I still don't like the big center vents and cheap-looking switches underneath. And that interior is now empty of any Mustang DNA. It could be any car sold today. (Except of course for the Mustang badge)
Which is a bit sad.
As expected, the 2.3 Liter Ecoboost and 5.0 Liter V8 return. Same thing for the 6-speed manual and the 10-speed auto.
The 2024 Mustang goes on sale next summer.
I am curious to see the real thing in person. maybe the interior is better in the flesh.
I still think that no matter what, in just a few years, this "new" Mustang will age pretty rapidly.
The new Dodge Charger EV is quite stunning. And EV infrastructure is improving fast. Especially with Tesla chargers opening up to other brands soon.
A Mustang (or any other car) with absolutely zero electrification will be a tough sale. Sooner than we think…