Honda Passport: test drive…
Last Updated: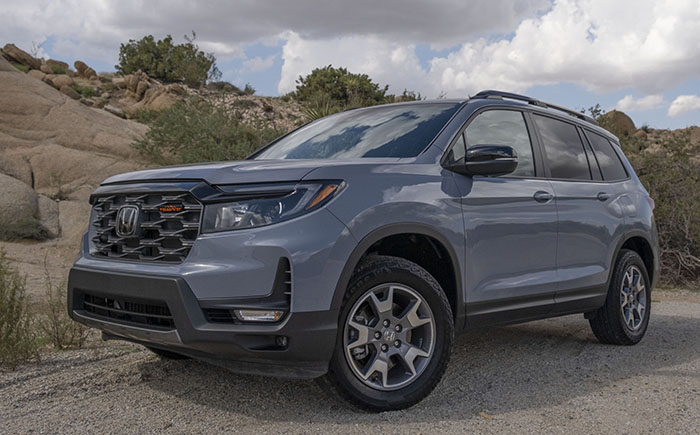 The current Honda Passport was introduced 4 years ago at the Los Angeles Auto show. It was basically a shorter, 5-seat version of the longer Pilot. Which was almost 3 years old by then.
So it has never been a super modern design. But I think it has aged pretty well. Especially with the redesigned front end it got for the 2022 model year.
And I think the new Sonic Grey (which is actually blue) of my test car looks great.
The interior is mostly the same as the Pilot and Ridgeline.
Not new, but it still works and looks pleasant enough. The infotainment is also vastly superior to the one in the Honda Ridgeline I drove a few months ago. It actually works fine and feels current.
And the 7-speaker stereo system sounds excellent.
The back seat is very roomy and the cargo space is pretty huge. And there's even a large hidden space under the floor.
Just like its closely related cousins, the Pilot and Ridgeline, the Passport's steering is very light. But also quite accurate.
They all have very similar driving experiences. The 3.5 Liter V6 is a luxury car smooth and quiet.
Same thing with the ride. Even the off-road-oriented Trailsport version doesn't have real off-road tires.
This could be a problem for hard-core off-roaders, but they wouldn't pick a Honda SUV anyway.
For the rest of us, the ride is very comfortable and quiet all the time.
This really feels and drives like a luxury car. Which is surprising. Since the Trailsport really plays the off-road look. The luxurious feel is even more unexpected than in the Ridgeline.
The Passport Trailsport is rated at 19/24MPG.
While I routinely got at least 29MPG on the freeway, 16 was the best I could get around town.
The 2022 Passport Trailsport starts at $43 000. Which isn't that bad at all for what you get, since it's already loaded.
My test unit had a couple of extra packages and options. Like the HPD black package for $2900 or the HPD Bronze Package for another $2900.
For a total of $51 364
The Passport Trailspoort is a great choice if you want a super comfortable and refined SUV capable of some light off-road fun once in a while.
Although some kind of hybrid system would really be welcome…