2024 Kia EV9: next to the concept.
Last Updated: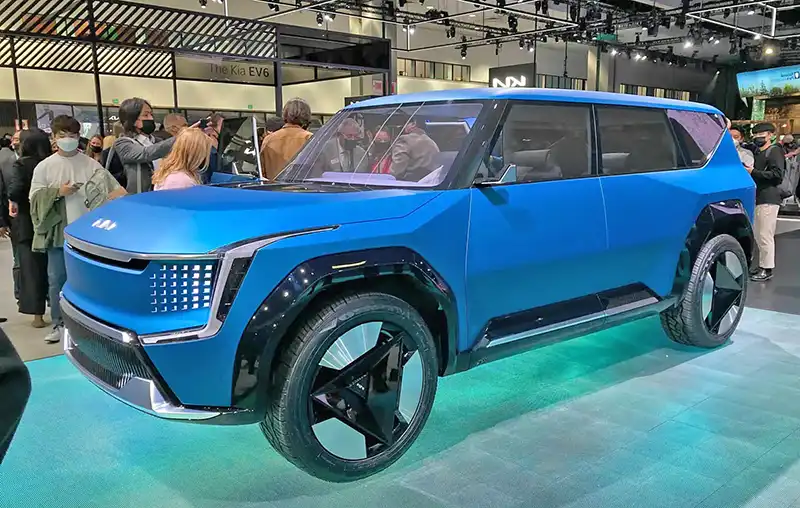 We already know the upcoming Kia EV 9 will look very close to the concept we saw in late 2021.
Sometimes they even seem almost identical. Until you really look at both designs closely. Every concept is toned down for production which is normal. I mentioned before that I actually didn't like the concept when I saw it at the Los Angeles auto show over a year ago. It just seemed like an unfinished design. Like a Tonka toy more than a real car. It looks like the production version (top) will actually look much better. It will be "toned down" in a good way. It already seems more solid, like a real thing. Also much more modern. It also seems lower and sportier. Maybe it is less of a complete original, but actually much more attractive IMO.
Even though it could be the least expensive way to get an EV if you really want a large 3-row SUV, I think it will still be too expensive. Especially after Tesla's new much lower prices. The base model is rumored to start at $56 000 with a 220 miles range. That's a really basic range for a huge family car. Unlike some high-end electric luxury sedans, these will actually be used for family road trips, and the range will matter a lot. 220 miles just won't cut it for most people. You can get a larger battery with 290 miles of range starting at $61 000. The loaded version will start at $73 000 with a 240 miles range (Due mostly to the larger 20-inch wheels and AWD). With a few options, that's almost Rivian territory. So far, there will be no Federal Incentives available for the EV9 since it will be built in South Korea.
Being sandwiched in between the Tesla Model Y and Rivian R1S might not be the best position for the new Kia…