2008 Honda Accord
Last Updated: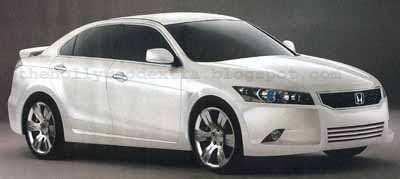 We've seen the coupe a few weeks ago. And here is the sedan version.
This illustration (I think) shows us the larger US Accord.
Not the more modern looking and slightly smaller Euro Accord that will end up here as the next Acura TSX.
No other news yet. I guess the 3.0 Liter V6 will grow to 3.2 or even 3.5 Liter. But I hear they might keep the same 2.3 Liter engine as a base model. Adding just a little more power to it.
On sale in the fall.