The Burlapp Passat test drive.
Last Updated: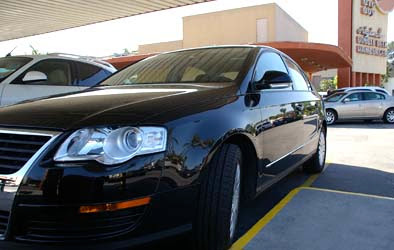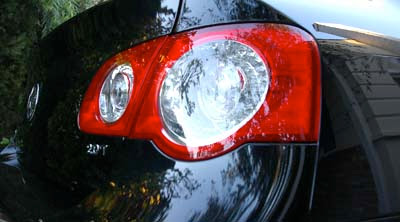 Let me start by a quick reminder. Last year I test drove the new Jetta and really didn't like it.
So I wasn't 100% sold on this new Passat.
I had test driven the old one (Look it up on the "classic" site, thehollywoodextra.com)
And I wasn't too crazy about it either. The 1.8 Liter Turbo had horrible lag and was actually pretty dangerous in even normal driving situations.
But I liked the ride and interior of the car.
I have to say, the new one still looks classy, and is still showing a different personality when compared to the Japanese mid sized sedans.
Unlike the Jetta, it doesn't look like a Japanese car.
I think that's a big plus for people who, well…Don't want a Japanese car.
Inside, it also does not look and feel like a Japanese car.
I do like the Camry and new Altima interiors, but this has a very different personality to it.
Some people complain the materials don't look and feel as good as on the previous version, but I didn't really see that.
Everything inside has a high quality feel to it. And the doors sound like a bank safe when you close them.
The dashboard is set pretty low. Kind of what Honda used to do. And the front seats are very roomy. They also, even on this basic vinyl covered model, look really upscale.
The tracks for the front seats go really far back.
The rear seat area is also very roomy. Overall, the car seems a bit larger inside than the Camry or Altima. But I didn't measure anything, so who knows really.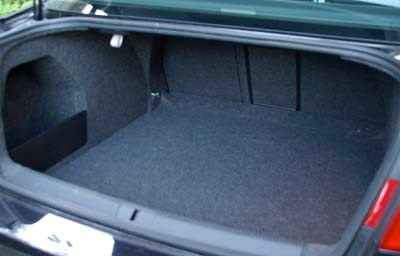 The trunk is pretty huge, but most cars that size have a big trunk.
I'd say you can squeeze at least to adult bodies in there.
And it is well finished too. Something the Chrysler 300 needs help with…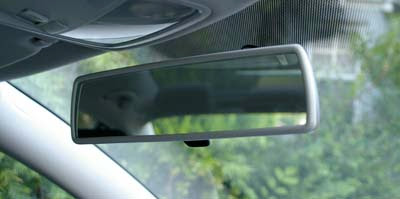 Just a detail, but again, VW has chosen to install the cheapest looking rear view mirror.
Same as in the Jetta. But here, it stands out quite a bit more, in such a nice interior.
You can find more upscale looking ones at Pep Boys…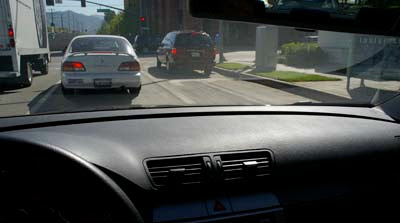 Now let's drive.
Behind the wheel, the dashboard isn't very deep. Which gives the impression of being pretty close to the windshield. Not really a problem, just different.
And as I said before, it is pretty low, so visibility is great.
The first think I noticed was the absolute lack of turbo lag.
It is quite amazing. It is never there.
And just like other VW 4 cylinder engines, this one has what I would call a double personality.
It is "Lexus quiet" when you idle, or cruise. But it does get a bit loud, and even coarse when you push it. Even just a little.
But it's not nearly as bad as the 2.5 Liter inline 5 in the Jetta.
But I have to say, it does get much better once the engine is warm.
That's just me. Others might just say it sounds sporty.
But it is not as smooth as a Toyota 2.4. And it is not a match for a good V6.
Especially the Nissan 3.5.
But it is very fast.
I was quite amazed how fast the car was. You get to over 80 mph on the freeway in no time.
In that respect, the car does feel at least as quick as a V6.
The full power is available right away, no waiting, and it feels amazing.
But if you push it, you'd better hold on. The steering felt a bit overwhelmed under hard acceleration.
But it is a lot of fun.
The ride is very smooth. But never too soft. It is still a German car.
The transmission is as good as they get. Super smooth and quick to downshift.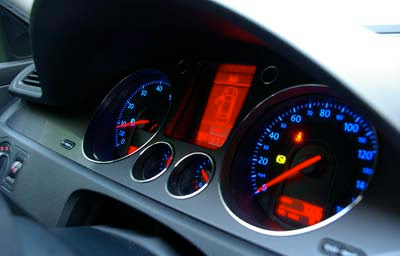 Some people hate it, but I really like the interior lighting from VW.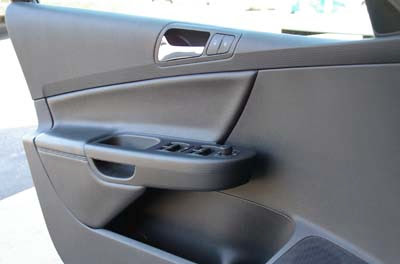 The door design is one of the most original I have seen in a midsize sedan.
Also classy and very well put together.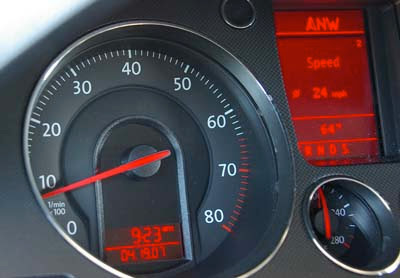 One small thing. The clock is only visible to the driver.
I am not sure why anybody would try to keep the exact time a secret from the passengers.
Unless you're on a date, and she's getting bored…
I have to say, I really liked driving the Passat for a few days.
It felt very solid (although not like a BMW or Mercedes), comfortable, classy and very quick.
Steering, suspension and transmission worked and felt great.
It was very quiet on the freeway. I couldn't hear any road noise.
But suspension wasn't as quiet. I could hear every bump I didn't feel…
As I said before, around town, the engine seems to get smoother and quieter as it warms up.
The big problem with VW/Audi has been a horrible reliability record.
With numerous electric and electronic problems.
Consumer Report has given the new Passat an "Average" rating for reliability.
Which is good. The average car is quite reliable.
The V6 was, somehow, much worse.
The car I drove was priced at $24 900.
Carsdirect has them for $21 800.
A Camry LE 2.4 costs $20, 600
Carsdirect has them for $18 000
An Altima S costs $21 900
Carsdirect has them for $19 600.
So no matter what, you'll pay a premium of at least $2000 or more for the Passat.
Is it worth it?
To me, the VW was more fun to drive than any of these other cars. Including Accord and Mazda6.
And the ride was at least as good as the Camry.
I also liked the VW interior better.
And also, it does look different. You're not driving what everyone else is driving.
But the premium does not translate into better resale value. Quite the opposite.
And long term reliability would still not be as good as the other cars.
But maybe it will…
There is a lot to like about the Passat and I would recommend it.
If the car turns out to be reliable and you keep it for over 5 or 6 years, resale value is less of a problem .
Things are a a bit different with a lease.
In that case, you don't care about resale value, and the car is always under warranty.
Here are some figures available today:
-Passat Auto lease: $249/month for 36 months
-Altima S Auto lease: $249/month for 36 months
-Maxima Lease: $299/month for 24 months.
Altima and Passat are available at the same price.
For $50 more a month you can get the Maxima with the great 3,5 Liter V6. But the one I drove last year didn't even come close to the Passat.
I wouldn't consider it.