Infiniti EX35 Review
Last Updated: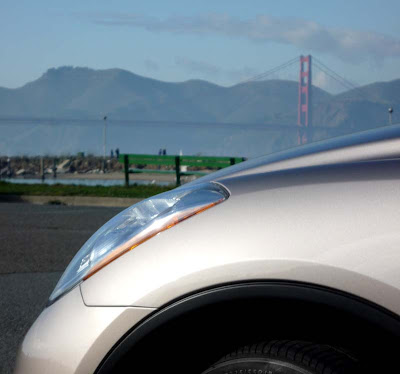 I was lucky enough to secure an Infiniti EX35 for an extended drive.
This was still a 2008 Model year. With the 3.5 Liter engine and a 5 speed auto.
For some reason, the 2009 doesn't even seem available yet.
It is expected to gain the new 3.7 Liter engine, and a 7 speed auto.
And a bit more leg room in the back seat…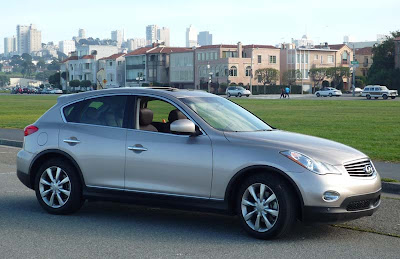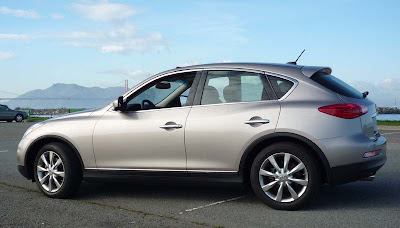 -HOW IT LOOKS
This is one good looking car, from about any angles. At first I thought the wavy line down the side was just too much.
But the whole thing looks great in real life. It also looks quite expensive.
Just how it should be, for the price.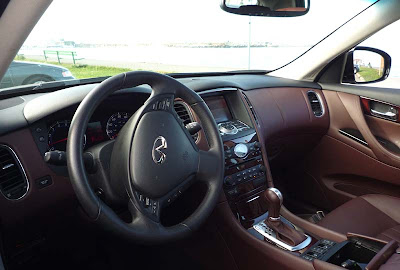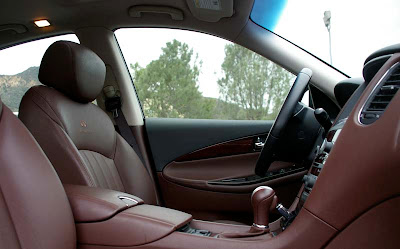 -HOW IT IS INSIDE
The inside is as good looking as the exterior. A very well made, classy interior. It also reminded me of a Jaguar somehow. Or at least what a Jaguar interior could, or should be.
The finish and the detailing is impressive wherever you look and touch.
The seats are very comfortable.
The stereo is quite amazing. And like other Infiniti models, the iPod integration works flawlessly.
But I have to report I did have a few problems with the navigation system giving me wrong info.
And the lane departure warning is just way too annoying on a long trip. A couple of Expressos usually do the trick for me.
I don't need my car to beep to remind me to drive straight…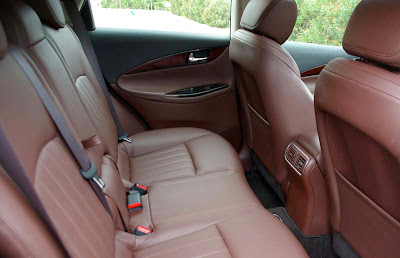 As you can see, the rear seta leg room isn't the best. It's actually one of the worse of any cars I've driven.
But they do offer the FX if you need more room.
I did carry a couple of people in the back and they had no problem fitting. Once you're back there, it's mostly OK.
Just think of the EX as a coupe. One with rear doors to accesss the small coupe back seats.

-HOW IT DRIVES.
-Ride
It rides pretty much like other Infiniti cars. Firm yet smooth. And always comfortable.
The only problem I had was that it was a bit sensitive to grooves on the road. Weird for such a car.
You can never tell you're driving an SUV/Crossover/Tall wagon . It just behaves exactly like a car.
-Steering.
Again, almost exactly the same as other Infiniti sedans.
Light, but with enough feedback to tell you're not driving a "boring sedan".
-Engine.
The engine is the same one used in their other mdels too. So it does behave the same way.
Very powerful and one of the smoothest around. And it still has that great exhaust sound when you push it. One that almost sounds like if it cam from the car next to you.
It is supposed to be updated to the new 3.7 Liter soon.
My gas mileage was pretty bad. It is pretty hard to get better than 16MPG in city driving alone.
And I also wasn't able to get much more than 23 on the freeway.
These are the same figures quoted by Infiniti. But 23MPG freeway in 2009 is really bad. For a car that isn't very large.
It does feel heavy and solid, sure. But something like this should be getting at least 27 in the highway alone.
-Transmission.
Nothing to report there. The 5 speed auto was always smooth and pretty quick to downshift. But with that much power, you don't really need to than often.
-SO?
I think the Infiniti EX35 is a great car. It looks fantastic and drives like other Infinitis. Which means it is both luxurious and sporty.
These are the most Germans of Japanese cars.
But if gas mileage and rear seat room are issues, look elsewhere.
The updated models might squeeze a bit more room in the back, and the 7 speed auto will help a bit on the freeway mileage.
But these won't be drastic changes.
It is not cheap, starting at $35 500. The Acura RDX is about $2000 cheaper. But you don't get the great V6.
Or if you want to stay in the Nissan family, you could get a loaded, and much roomier Murano for a bout the same price.
The larger Infiniti FX starts at $42 000.
The EX offers a sporty look and feel with the convenience of a hatchback you won't find in other cars.
It is basically mostly for people who might otherwise choose a coupe.
Almost like a high end coupe with a hatchback.