Nissan Leaf test Drive. Part two.
Last Updated: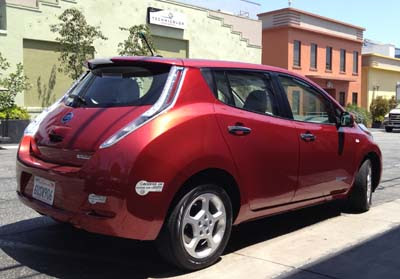 I had to return the leaf after a few days. And I must say, I was sad to see it go.
It is a great little car to drive.
Not as sporty or fast as the Volt, but it has its own quiet personality.
A light, but precise, steering, and a super smooth ride will please most.
And although it feels solid, it doesn't have the same heavy feel as the Volt. Which I prefer.
But it is also based on the same platform as the new Versa. Which is cheaper than the Volt/Cruze one.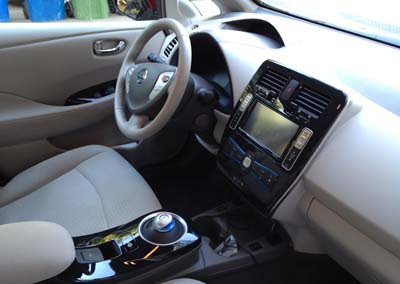 The interior has almost everything you need.
No leather in my car, but that is an option for 2013. As well as a dark interior color. (But no sunroof.)
I was just fine with the light grey cloth.
The interior design is simple and quite futuristic. And everything is very well put together.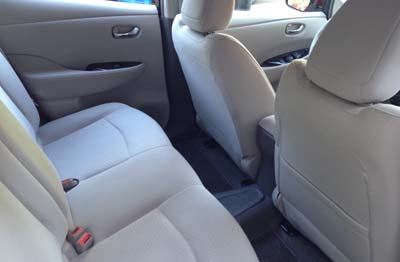 Back seat is quite roomy, a bit more so that the Volt.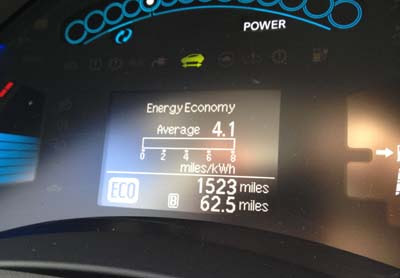 Unlike the Volt which has a "Sport" mode, the Leaf has an "eco" mode. Which is pretty much unusable.
It is a stupid gimmick that turns the car into a slug. So slow that I felt it was unable to keep up with any realistic traffic condition and could even be dangerous.
And from the computer reading, it looks like the gain would only be less than 10 miles per full charge.
It also seems that using the climate control will cost you about 10 miles on the full charge.


I only charged the car once during my few days of driving. I was down to 9 miles when I did.
And the overnight charge on a regular 115 volt outlet put me back to 85 miles the next morning. Not quite full, but fine.
The Leaf really feels like something special when you drive it. It is literally like driving the future.
And Nissan has done an amazing job at making sure it feels like a normal car.
Much more so than the Prius.
It has plenty of power (except when using the "eco" mode)
And it is very comfortable at all time.
The main problem is,, of course, the limited range.
It makes a great second car to go to work . But you just have to plan everything else. Gone are the "let's take a drive up the coast" spontaneous moments.
But again, this is the first of its kind. Once the range gets to be 300 miles and you can charge it at a station in 15 minutes, the gas engine will be dead.
For most people, I would still recommend the Volt over the Leaf. Even though the lease is about $100 more a month.
The Volt can be your only car. And it feels more like a driver's car.
But the Leaf is the future. Now.