All new 2017 Fiat 124 Spider pricing.
Last Updated: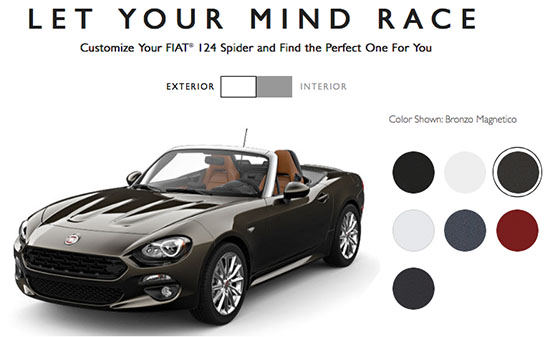 The new 2 seater Fiat convertible will start at $ 25 000.
They call the base model the Classica.
The Lusso model is $ 27 500.
The Lusso comes with heated leather seats, 17 inch wheels and a bunch of other stuff.
There is an Abarth model available too for $28 200. But it has only 5hp More. (Which sounds ridiculous to me…Why even bother)
All are powered by Fiat's 1.4 Liter Turbo engine with 160HP. (Except the 165HP for the Abarth)
6 speed manual is standard on all models and a 6 speed auto is an option.
The base model is a few hundred dollars cheaper than the base Miata.
But the Lusso is over $2000 less than the Grand Touring Miata.
This all sounds like a pretty good deal to me. The 124 is built at the same plant as the Miata and should be as reliable.
I saw the car a few months ago and sat in it. And I do prefer it to the new Miata.
I never really got used to the current Miata design.
Finding the Fiat much nicer in general. (Even though it is not nearly as fantastic as the old one from the 60's..)
I think this will work wonder for the Fiat brand in the US.