2022 Acura MDX: new teaser
Last Updated: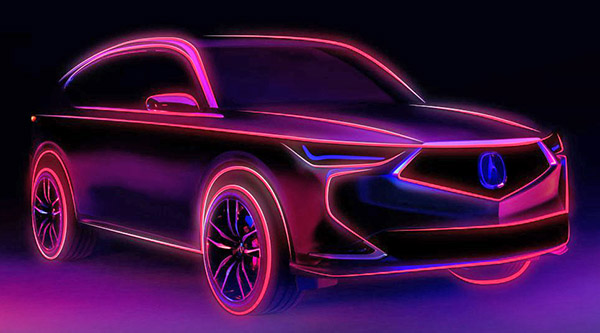 We all know there is an all-new Acura MDX coming out.
But all we will be seeing in a couple of weeks is a "concept". Just like the Jeep Grand Wagoneer, Infiniti QX60 and many others these days. It seems like a weird trend to reveal only a fake concept version of long-awaited models. And drag the reveal of the real thing even more.
You know that "MDX Concept" will be 99% close to the production version we will see just a few months later. This is so weird…
(If you want to see the real thing, you can head over HERE anyway.)
Apparently, most of the press expect the new MDX to offer the same engine choice as the new Acura TLX sedan. Which, I think, would be a big mistake. As a luxury brand, the big MDX should NOT have a 2.0 Liter 4 cylinder as standard equipment. Their new V6 should be the only engine offered.
I know there is a trend to replace V6s with 2.0 Liter Turbos these days. But most of the MDX (if not all) competition comes with a smooth V6. (Even the Telluride and Palisade have a standard V6) The 2.0 is great fot the smaller RDX, not for the MDX. Even if technically, the power could be enough.
This is their flagship model ( not including the limited production NSX). Even a less powerful version of the V6 would be OK.
What do you think of a 2.0 Liter Turbo for the MDX? Would it kill its luxury credentials?