2022 Mitsubishi Outlander: they blew it. Again…
Last Updated: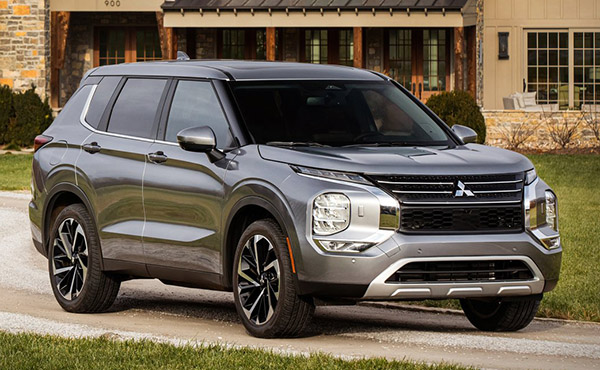 Just when I started to almost like the new 2022 Outlander, Mitsubishi let me down. Again.
I thought the pix I posted a couple of days ago weren't that bad.
But the real thing is actually horrible. Yes, I said it, horrible. Horrendous, abominable and nauseating.
There is really no excuse. It seems it took them so long to replace the current Outlander. And that's all they came up with. They didn't even have to work on a platform since it is based on the Rogue. Years and years for this.
Let's start with that face. I mean really. Is it how you design a car now? When you're 9 maybe. You keep adding stuff. More lines, more lights. More shiny stuff everywhere. Bigger. Bigger!!
The profile is actually OK. Weird. I guess another team worked on that part.
The rear end is a blah mix of everything out there. Except for that face, the whole thing could be anything from anywhere. (Except earth)
Since it is based on the Rogue, of course the interior has a Nissan vibe to it. Shifter, screen, knobs. That all looks like Nissan stuff to me.
Except the whole thing looks like "bargain basement Nissan". Not the real Nissan. Even with the stupid quilt pattern on the seats. (If I see this crap one more time I might explode)
I guess your choice is ether the vulgar looking quilt pattern, or the "weirdo zig-zag orange crap on black seats" stuff.
I bet (hope) the base cloth looks better…
Maybe the worst part is the fact they really blew the one chance they had to offered something different in a sea of same SUVs:The engine.
They had been offering a plug-in Hybrid Outlander for years. I thought the new gen would at least improve on that. More EV miles? That would be cool. A compact Crossover with standard plug-in tech.
But NO!
They scrapped the whole thing only offer the monster with Nissan's good old 2.5 Liter /CVT combo. Which is maybe the weakest link of the new Rogue.
Are they that strapped for cash? Maybe they just want to see what happens if they spend the smallest amount of money in development ? See if it sells anyway.
Maybe there are enough suckers? (They still managed to sell around 19 000 inits of the Mirage last year).
Or maybe not.
I kept the best part for the end: it starts at $125 MORE than the Rogue.
After all this, you'd think they are trying to turn Mitsubishi into a bargain basement version of Nissan.
The "99 Cents store of cars". .
Not even close. They are charging more!
I wonder who will buy Mitsu next… A Chinese company maybe? Too bad Malcom Briklin isn't around anymore…
I dare you to stare at these 2 photos for 2 minutes each right before you go to sleep. Make sure these are the last thing you see before you close your eyes tonight.
I dare you…