2022 Hyundai Santa Cruz: new teasers…
Last Updated: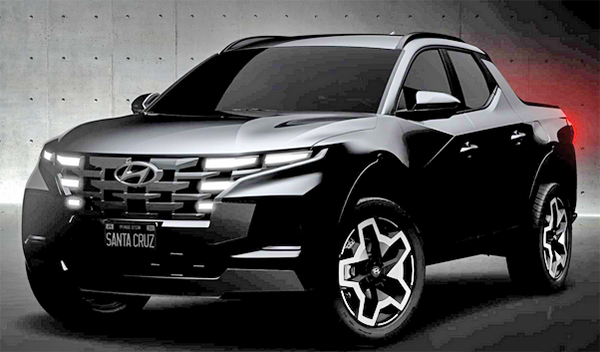 These are all-new official teasers of the 2022 Hyundai Santa Cruz pick-up.
And it basically looks like it is following the footsteps of the first-generation Honda Ridgeline. By offering something very different from the rest of the market. A true blend of crossover and pick-up truck. Which is what the first Ridgeline was going for, and mostly failed.
Since the 2021 Ridgeline totally abandoned the idea and decided to disguise itself as a "real truck", it seems the Santa Cruz will be the only choice in town if you want a "non-truck pick-up".
I know the upcoming Ford Maverick will be based on the Escape/Bronco Sport. But it is trying very hard to look like a regular pick-up truck. Hiding its car-based roots by looking like a small F150.
I think the Hyundai will appeal to a totally different market.
As you can see in these photos, the Santa Cruz is obviously related to the Tucson, but all body panels are actually different. It is not just a pick-up version of the Tucson.
The interior of the Santa Cruz is very close to the Tucson. But, at least on the version pictured above, it is missing the small screen behind the steering wheel. And seems to have a regular automatic shifter.
Still, the Tucson interior is very stylish and would be refreshing to see in a cheaper pick-up.
The Maverick is rumored to start at around (or just under) $20 000. While the Ridgeline is now an expensive $37 000 for the base model.
If Hyundai can keep the base Santa Fe in the low 20's, I really think this might have a chance. The base engine would be the 2.5 Liter engine. But turbos and Hybrid versions are already available on the Tucson and would probably be options on the Santa Fe.
This could be really interesting. We'll know everything on the 15th.