New Scout coming: from VW…
Last Updated: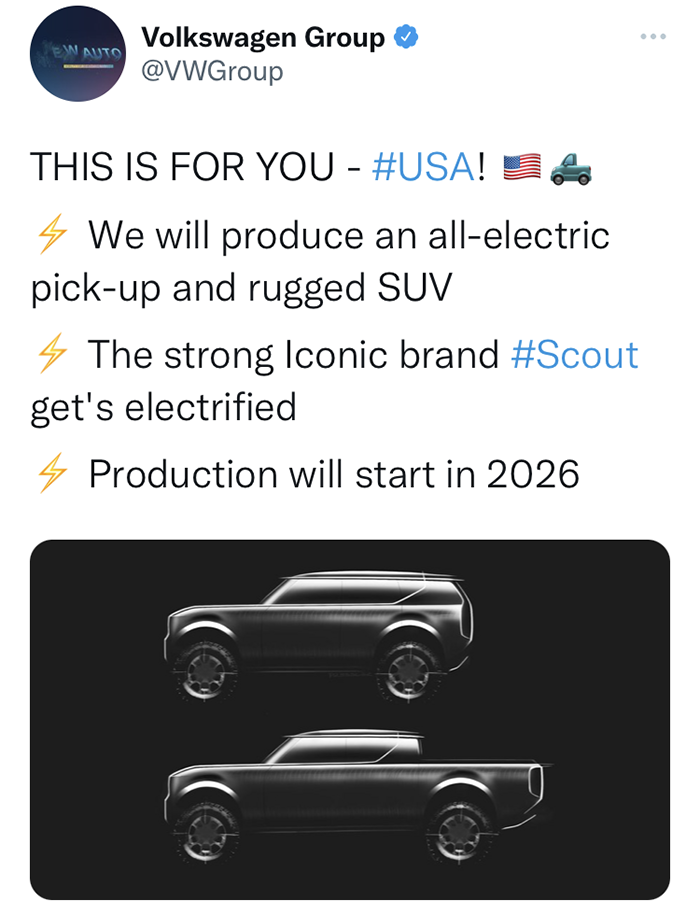 This is something completely unexpected.
The super cool International Harvester Scout is (almost) back! As an EV.
The original Scout was produced by International Harvester between 1961 and 1980.
There were many versions and 2 generations. The one most people remember seems to be the 2nd generation 2 door hardtop.
The original Jeep Cherokee came out a few years later, in 1974. And was obviously influenced by the Scout II.
Now we hear this "almost too weird to be true" news. VW, by acquiring Navistar International in 2020, became the new owner of the Scout name.
And they've just announced that Scout will become an all-new brand within the VW group. They've even released these official sketches of the 2 new Scout models. One is an SUV (now with 4 doors) and a pick-up truck.
And of course, both will be EVs.
While 2026 is 3 years away, we will probably see prototypes before. Maybe as soon as next year.
Let's hope this isn't another super expensive toy competing with the new Hummer or even the Rivian trucks.
This should be positioned directly against the new Bronco and Jeep Wrangler.
Which will probably both offer pure EV versions by the time the new Scout is out.
These are original ads for the second-generation Scout. From 1978 and 1980.
They were even working on a 3rd generation before the company ran out of funds for a new SUV. From the look of these prototypes, it would have competed nicely against the smaller 2nd generation Jeep Cherokee that came out in 1984.
Again, it seems the Scout was ahead of its time.