Honda Ridgeline: test drive…
Last Updated: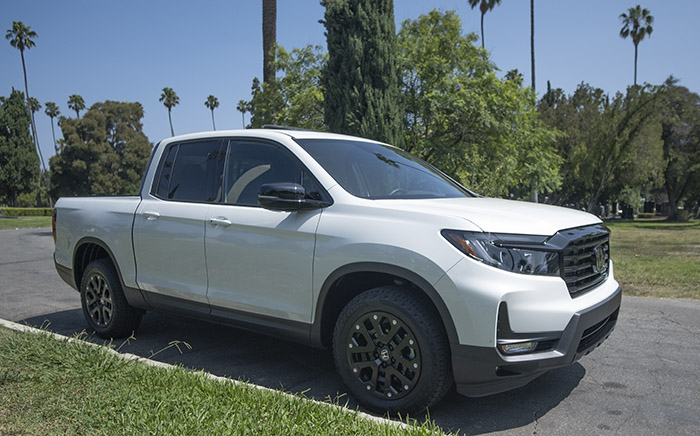 By now, the Honda Ridgeline is a pretty familiar sight, even though it's not the most popular truck. But the current generation has been around for over 6 years.
Over these years, Honda has been trying really hard to make it look more like an old fashion "real" pick-up truck. Or at least, what truck buyers seem to want. With a larger grille and a more macho look.
It seems to actually work since sales went up the last year to over 41 000 units (from around 32 000 in 2020)
But it still looks pretty anonymous. Which could also mean timeless in a generic kind of way…
The interior is of very high quality. With soft plastics almost everywhere. This is basically the exact same interior used in the Pilot and Passport.
Everything is logical, works well, and feels very solid.
But it does look quite dated. Which would actually be OK if Honda had updated the infotainment system.
Unfortunately, that system looks and feels really old. It's amazing to see how much better these things have become in just 6 years.
The screen is very slow and laggy. The whole thing looks like it was designed in the 90s. (Just look at that old-timey phone logo!) And, even though you have 5 little dots at the bottom of the screen, there is only one page of "apps". The other 4 are empty.
At least there's Apple Car play…
It's just not great at all. And basically, way behind any of its competition.
Another "retro" touch is the pedal-activated hand break. Something I haven't seen in a long time…
The back seat is very roomy and comfortable. And Honda's "trunk in a bed" feature is great. And can also be used as a cooler for parties.
The Honda Ridgeline is very comfortable and quiet on the road. More like an SUV than a truck.
And the big old 3.5 Liter V6 is always super smooth, quiet, and refined.
The steering is very light and doesn't have much feel. It almost seems a bit loose off center. Which could appeal to truck buyers.
The Ridgeline is rated at 18/24MPG. I got about 16 around town, at best. But almost 29 otherwise.
While the Ridgeline is easily the best driving pick-up available, that doesn't seem to matter to truck buyers.
And "regular" mid-sized trucks like the
Chevrolet Colorado
are getting more and more refined.
I am just not sure who it is for. For people who don't want a real truck, the trucky design just doesn't work. (The new Hyundai Santa Cruz would be a better choice)
And truck buyers don't seem to care about a super smooth ride and the most refined engine available.
Add the $47 000 price as tested, and it's even less appealing. (You can probably find plenty of used ones)
Plus, that old interface is really behind anything else available today.
The Ridgeline isn't just fighting the Santa Fe these days, but the redesigned Frontier as well.
And especially the all-new
Chevrolet Colorado
. Which will soon be joined by its GMC cousin.
And the redesigned Ford Ranger.
While we've all seen spy shots of the
next-generation Pilot
, there haven't been prototypes of the next Ridgeline (The Passport will probably be replaced by the
new Prologue
)
I hate to say, but I just can't see brighter days ahead for the Ridgeline…