2024 Mustang base interior: basic…
Last Updated: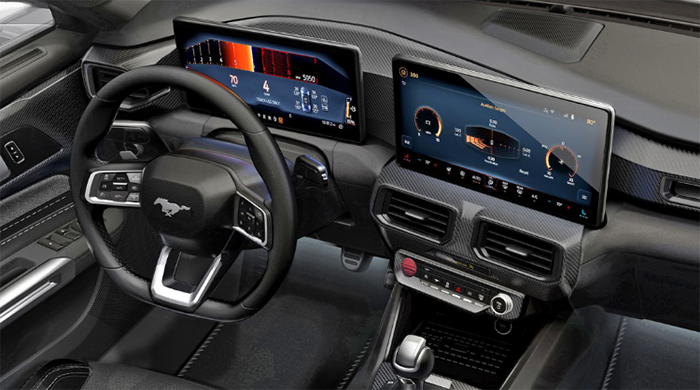 A new photo reveals the interior of a more basic version of the new 2024 Ford Mustang.
Besides that lack of fancy silver trim (which has been the case for years in the Mustang anyway), the main differences are the screens. Which are now 2 separate units. Looking like cheaper after-market parts from Pep Boys and not integrated at all into the already very generic interior.
The screens in the new Mustang are the "in your face" type. While it seems other manufacturers like Toyota and Nissan have all done a much better job including them in the dashboard design. The photos above show the Toyota GR86 and new Nissan Z interiors. Both could be considered competitors to the Mustang. And both are still sporty RWD cars with a manual transmission available.(Although Ford has already mentioned the manual will only be available with the V8 for 2024. )
Currently, the base Mustang starts at around $27 500. The GR86 starts at around $1500 more. And the new Z is much more at $40 000.
Ford claims millenniums love screens. Not sure they will love the cheapo-looking setup in the new Mustang.