2025 Ford EV SUV.
Last Updated: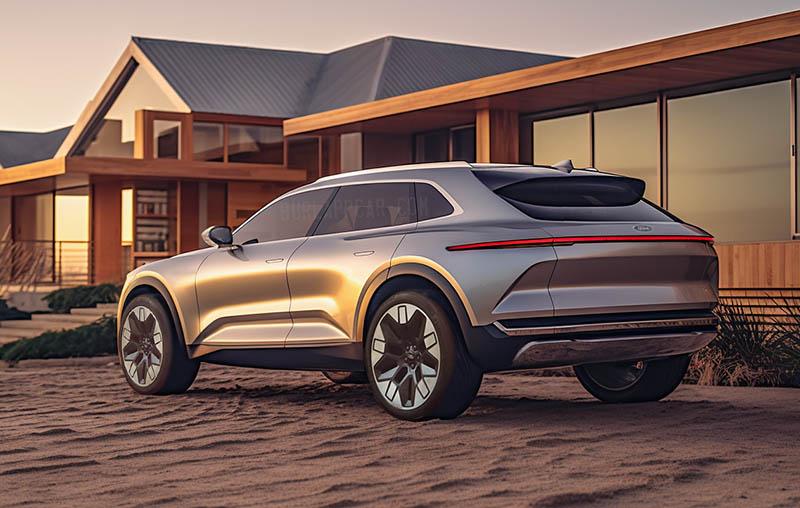 At the same time they mentioned the new "Project T3" pickup truck, Ford execs showed an image of their future 3-row large electric SUV, also coming out in 2025.
They made sure to let people know this wouldn't be an electrified version of the Expedition. It will be an all-new EV-specific model with its own name. Although it will be almost similar in size to the current Expedition. The new model will use a 100kWh battery pack for a 350 miles range, which sounds pretty efficient for such a large SUV. Especially when compared to GM's Hummer EV with its huge 200kWh battery.
Jim Farley described the new SUV as a "personal bullet train". This sounds about as weird as the "millennium falcon with a porch attached to it" description of the upcoming EV pickup truck. To illustrate the description, they even showed a picture of the interior of the SUV enclosed in the shape of a bullet train, just in case people didn't get it.
Except for the new Kia EV9, no one else has announced an affordable electric 3-row SUV yet. You know GM is working on something that will be offered by different brands but no word yet. Although Hyundai is also hard at work on a production version of the Ioniq 7 Concept car. And eventually, everyone will have one…
The 3-row SUV segment is a very popular one and constantly growing. It will be interesting to see if it will still be the case in the EV world. Prices seem to be coming down after Tesla's giant price cuts, by the time the Ford model is ready it might actually cost about the same as an Explorer.